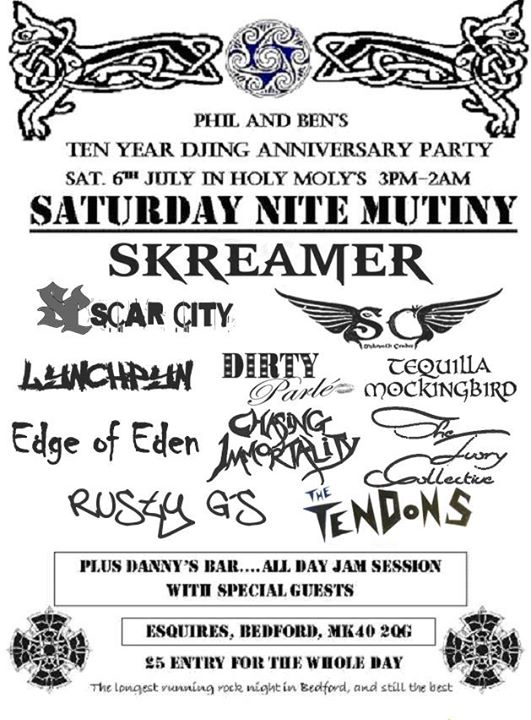 Phil and Ben Celebrate 10 years djing at Esquires with a bit of a Party…..Skreamer, Scar City, Sykopath Condor, Dirty Parle, Lynchpyn, Tequilla Mockingbird, Edge of Eden, Ivory Collective, Rusty G's, and The Tendons (so far) join us in Holy Molys followed with a Saturday Nite Mutiny….
Line up (subject to change!);
Holy Molys.
4pm Rusty G's
5pm Chasing Immortality
6pm Edge of Eden
6:45pm Tequilla Mockingbird
7:30pm Dirty Parle
8:15pm Lynchpyn
9pm Sykopath Condor
9:45pm Scar City
10:30pm Skreamer
11pm The Tendons
Dannys Bar 7:50pm Ivory Collective
Plus Dannys Bar all day Jam with Liam Burke, Sean Morris plus other guests (feel free to offer to play or let me know others that should!).
All for only £5….coincidently what we charged when we first played on a cold Wednesday night ten years ago!!
There's going to be a little bit of drinking, much dancing, fantastic music and great people, see you there! x x