Planning to come see something at Esquires? You can find us at:
60A Bromham Road
Bedford
MK40 2QG
Although the address says Bromham Road, the entrance you see below is located on Greyfriars. If on Bromham Road, take the turning immediately next to Flamme Rouge Cycles & Coffee.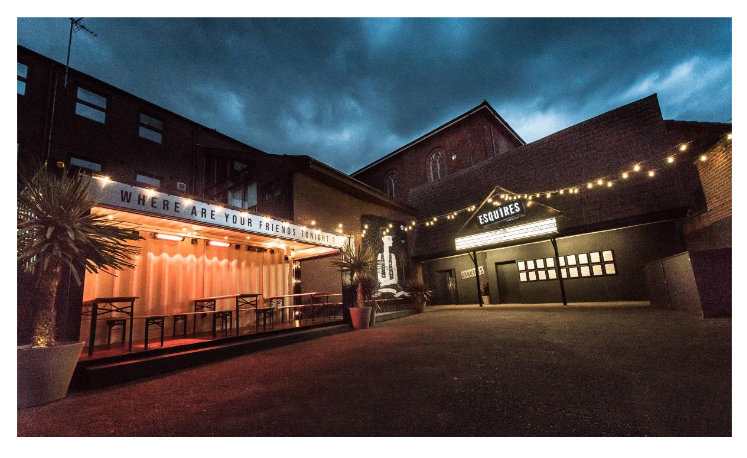 Travelling by train? Esquires is just a short 8-10 minute walk from Bedford Station and you can get a direct train from Luton, St Albans, London (St. Pancras International) and all points inbetween via First Capital Connect. If you are travelling from London you can also get faster trains to and from Bedford via Midland Mainline, also from St Pancras International. First Capital Connect trains run pretty much all through the night on all days except Saturday when the last train south is usually around 11:37pm – you can check the timetable here.
If you are coming from the North, you can get a direct Midland Mainline train from Wellingborough, Kettering and Corby.
Travelling by car? Greyfriars Car Park (post code MK40 1JD) is a 3 minute walk away (see below) and it's totally free after 6pm and all day Sunday. Alternatively there is normally spaces on Greyfriars road outside (again, free after 6pm). There is a small car park immediately to the front of the venue but this is for bands / staff only. Please don't park in there if this doesn't apply to you!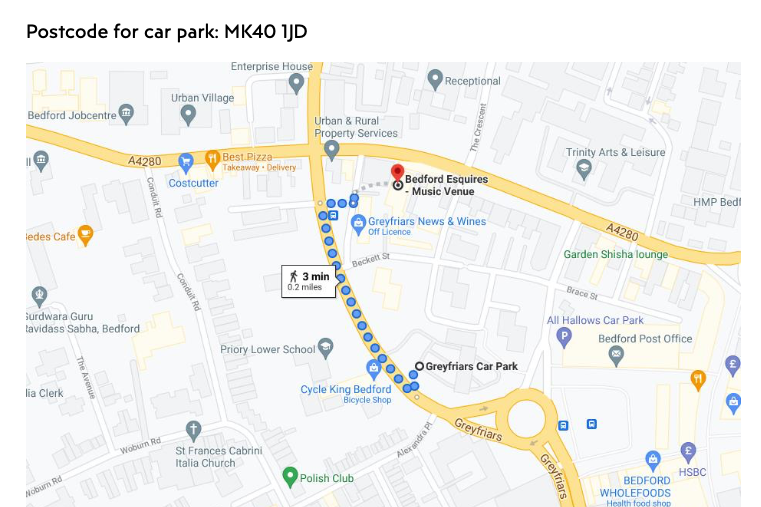 Please use our contact form if you're interested in hiring or playing at Esquires, or alternatively telephone us on 01234 631524.