Millie Manders and the Shutup + Desensitised + Slackrr. ***SHOW POSTPONED***
December 12, 2021 @ 8:00 pm

-

11:00 pm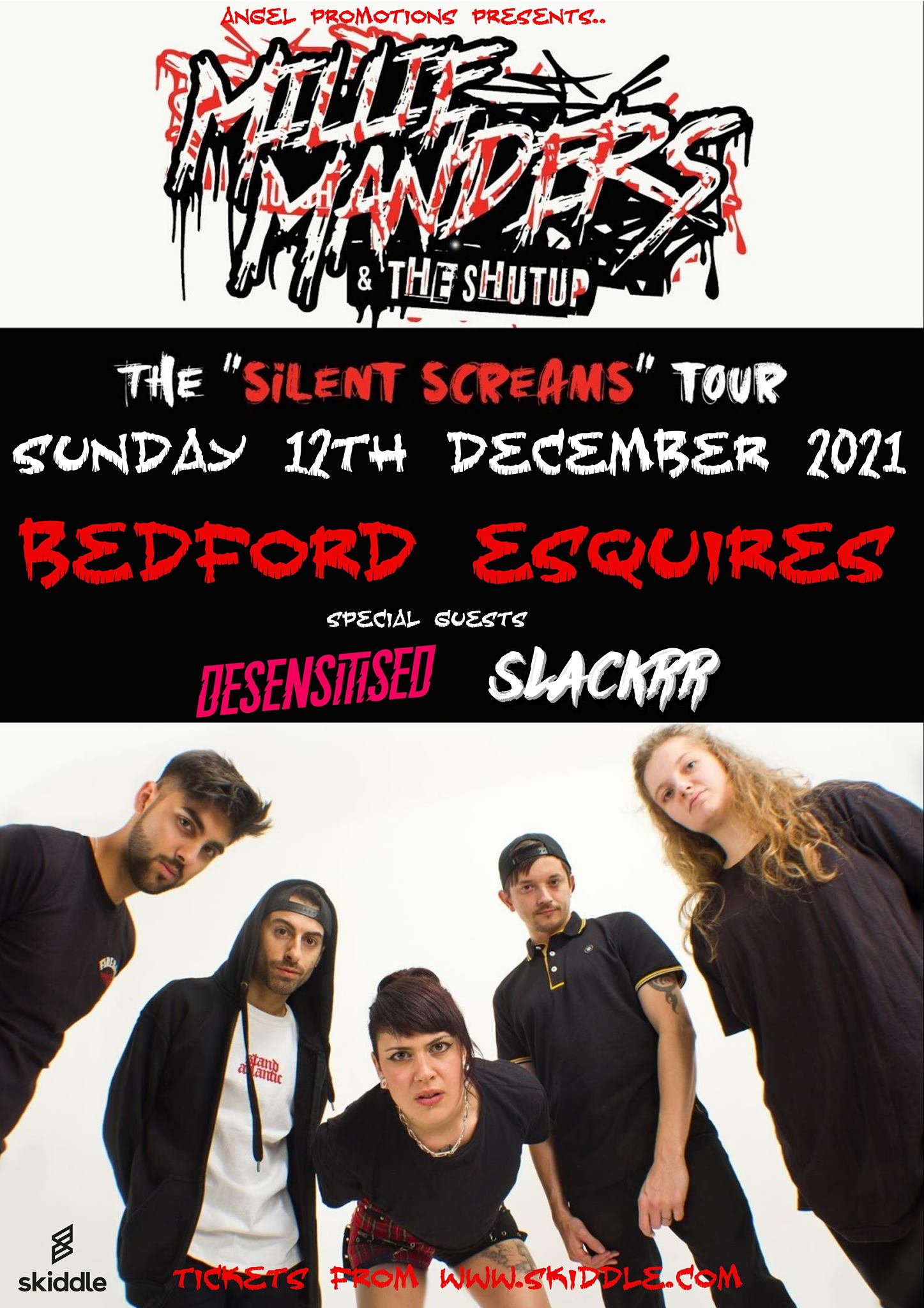 "High-octane, fierce, bursting with attitude and almost obnoxiously addictive" – Fortitude Magazine
"If Kate Nash was actually any good, she'd probably sound like this" – Rock Sound
"The world needs more ballsy female vocalists like this." – MOSH/Hit The Floor
Millie Manders and The Shutup create cross-genre punk that is hard to ignore. With lyricism that pokes fun, draws you in or leaves you questioning social norms teamed with incredible vocal dexterity, grinding guitars, irresistible horn hooks and a pumping rhythm section, the Millie Manders Music Machine churns out more raw punk fusion than you can shake a stick at, with a huge amount of Pop appeal.
Millie launched her solo career in 2012, taking her acoustic sound around the UK, building her loyal fan-base and releasing her first EP "Demon". Singles Demon and Raw saw her get airplay on multiple local radio stations including BBC Introducing Norfolk, Coral Rose Radio in Liverpool, RKC in France, Krystal Radio in Essex and Shoreditch Radio in London, plus regular spins on internet stations in New Zealand, Canada and America.
In 2015 Millie formed her band "The Shutup" And released two EP's, The Free-P and Obsession Transgression, both to widespread critical acclaim. "Hole In Your Chest" was given multiple spins on John Kennedy's "Xposure" show on X-fm, and Matt Stock's 'The Punk Show' on Team Rock Radio, and magazines such as Rock Sound, Fortitude, Melographic and MOSH have all been hugely positive about EP Obsession Transgression and predictive future of Millie Manders.
2016 saw the band play Tramlines, International Ska Festival and Boomtown Fair, and 2017 has been an even bigger success, having and played at several major festivals including Rebellion, Nozstock, Boomtown Fair Skabour, Big One 6, Pie Race, Camden Rocks and Latitude and completing a successful UK tour.
2018 is booking up fast with a return to Rebellion already announced along with appearances at Bearded Theory, Riff Festival, Nice N Sleazy and a whole load more major festivals in the pipeline ready to be announced.
An "Almost Acoustic EP" is set to be released this spring, and a new full band EP is being penned, with fresh material making it's way onto the set lists. The train that is this force to be reckoned with just keeps on coming.
"Watch this space" is a term very much worth it's salt when considering the hype surrounding Millie Manders. Her live shows are electric and her songs infectious. If you haven't listened to her yet, you need to…
"She's got an incredible voice" – John Kennedy, Radio X
"I love it. REFRESHING. What a way to start my day" – Lynval Golding, The Specials
"If you see her name on gig flyers around the UK, go and check her out … She's a great artist, and one to watch" – Matt Stocks, "The Punk Show" Team Rock Radio / Metal Hammer / Classic Rock
"This girl's really got something going for her. Be sure to see her everywhere in the not-too-distant future" – Get Mentioned
Support comes from two fantastic up and coming bands
Desensitised and Slackrr