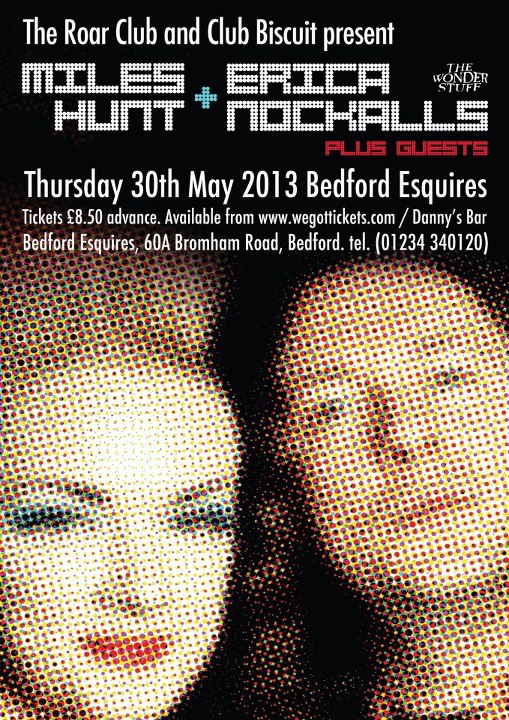 Following their brilliant appearance in early 2012, where they reprised The Wonder Stuff's classic 'Never Loved Elvis' album in it's entirety, The Roar Club and Club Biscuit are pleased to have invited Miles Hunt and Erica Nockalls back to Bedford Esquires.
It is a cliche to say an artist needs no introduction, but that is surely the case with Miles Hunt. As lead singer of The Wonder Stuff, he has enjoyed a series of Top Ten albums (notably 'The Eight Legged Groove Machine' & 'Hup'), a number one single with Vic Reeves and Bob Mortimer and headlined countless festivals.
Erica Nockalls joined the band on violin in 2006 and The Wonder Stuff remain an ongoing concern, recently selling out the 2000 capacity Shepherd's Bush Empire. However, Miles and Erica have continued to tour (ahem) 'more intimate' venues as a duo, playing acoustic versions of both Wonder Stuff classics and tracks from the albums they have recorded together.
Tickets are £8.50 in advance, available from http://www.wegottickets.com/event/195633
and Danny's Bar.
Please note – this is a rescheduled date of a gig that was due to take place early in 2013. Tickets for the original date are still valid. If anyone cannot make this new date, refunds are available from the point of purchase.