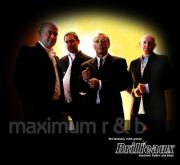 ….All the way from New Zealand…
Silver Gig Promotions Present a night of Hard Driving R'N' B.
Brilleaux is a high-energy, hard driving, British-style rhythm and blues band from New Zealand in the style of bands such as Dr Feelgood, Wilko Johnson, and Nine Below Zero, and in a similar vein to earlier exponents of the genre such as The Yardbirds, Early Rolling Stones, and Johnny Kid and the Pirates.
Brilleaux currently have 5 albums to their credit, with number 6 due for release some time late in 2009.
A typical set by Brilleaux consists of a mixture of British R&B Classics and exciting original material that these masters of Rhythm and Blues have been performing at festivals around the country since 1999.
There is nobody in New Zealand playing Rhythm and Blues like these guys!