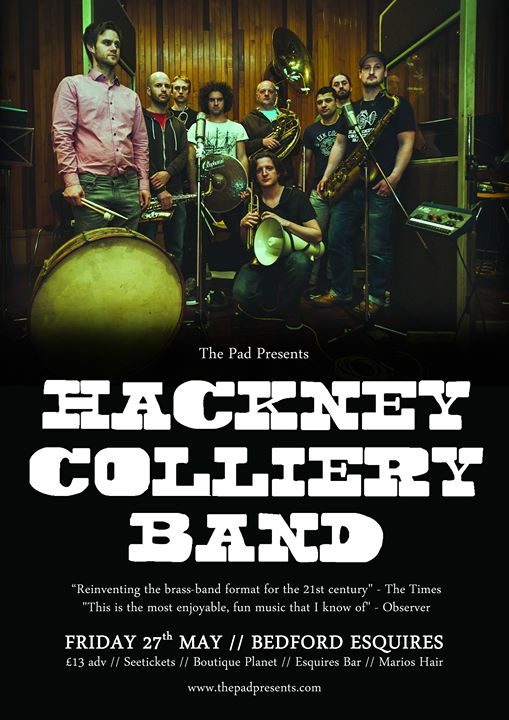 THE PAD PRESENTS
http://www.thepadpresents.com
HACKNEY COLLIERY BAND
"Reinventing the brass-band format for the 21st century" – The Times
"This is the most enjoyable, fun music that I know of" – Observer
We are very excited to be bringing former Amy Winehouse live collaborators Hackney Colliery Band to Bedford Esquires on Friday 27th May, for what promises to be one of the finest shows the venue has ever seen.
The band released critically aclaimed debut album 'Common Decency' in 2013, and mix up their live sets between original compositions and their own take on other artists songs, including their infamous 'Prodigy Medley'
The 9 piece brass band have backed some of the worlds finest, as well as selling out shows across the world in their own right. They describe themselves as Contemporary brass rock/hip-hop/Balkan/afrobeat/jazz music – All we know is it's going to be fun!
Expect Brass, Beats & Bass!
———–
Tickets are £13 adv, on sale from:
http://www.seetickets.com/event/hackney-colliery-band/bedford-esquires/945597
Also on sale from Wednesday 27th January from:
Marios Hair, Kempston
Boutique Planet, Bedford
Esquires Bar
This is 14+ ages ahow, 14-15 year olds to be accompanied by an adult