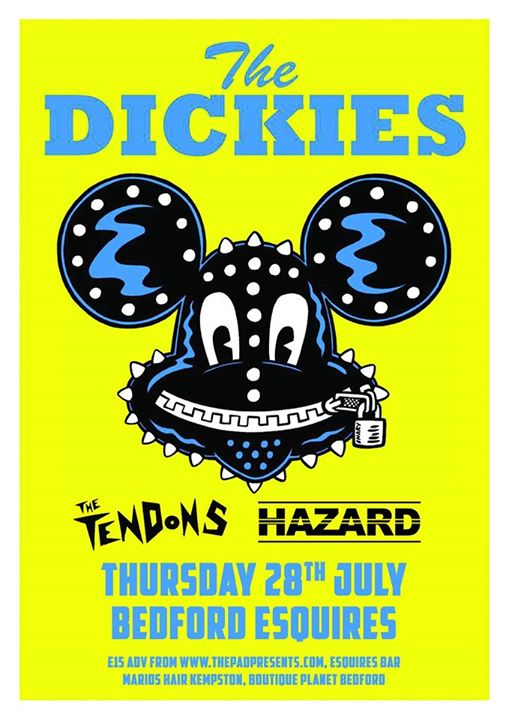 THE DICKIES + guests THE TENDONS + HAZARD
7.30pm Thursday 28th July
Esquires Bedford
Legendary US band THE DICKIES bring their unique irreverent brand of punk rock hilarity to the UK and Europe in August 2016.
The Dickies endear themselves to worldwide audiences with their winningly campy and goofy sense of playful good humour. They hold the distinction of being the first California punk group to both appear on network television and be signed to a major record label.
Besides such amusingly nutty original songs as "Hideous," "Waterslide," "Manny, Moe and Jack," "You Drive Me Ape (You Big Gorilla)," "Attack of the Mole Men," and "(I'm Stuck in a Pagoda With) Tricia Toyota," the Dickies have done insanely inspired covers of other artists' songs that include Black Sabbath's "Paranoid," "Nights in White Satin" by the Moody Blues (this particular cover was a Top 40 hit on the UK pop charts in 1979), Barry McGuire's "Eve of Destruction," and "Nobody But Me" by the Human Beinz. The band scored a Top 10 British radio hit in 1979 with their wacky rendition of the 70′s Saturday morning cartoon TV series theme tune "Banana Splits" (Tra La La Song).
Last seen in Bedford supporting the Damned this is a rare chance to see the legendary US punk band in a small venue.
Tickets are on sale online priced £15 from seetickets.com and will be available from our regular tickets outlets of Esquires Bar, Planet Boutique in Bedford & Marios Hair design Kempston and Vinyl Revelations in Luton from Wednesday 20th January.