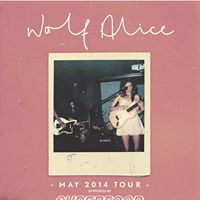 THE PAD PRESENTS
http://www.thepadpresents.com
http://www.facebook.com/thepadpresents
WOLF ALICE + SUPERFOOD – Bedford Esquires
We are thrilled to announce the return to Esquires of one of the heaviest tipped, and one of our favourite new bands WOLF ALICE on Thursday May 15th, joined by another in the 'hot tip' list, SUPERFOOD! Both bands have been on nearly every single list this winter as ones you need to look out for in 2014, and for good reason too.
Wolf Alice will be releasing their long anticipated debut album around the time of this tour, having already released EP 'Blush' last year, with singles 'Bros' and 'Fluffy'. Data gathered by BBC6 Music found that Wolf Alice were the most blogged about band in the UK in 2013, and you can see what the hype is all about at Esquires in May if you missed our last show with them in April last year.
Support band SUPERFOOD hail from Birmingham and have more than their fair share of Britpop sensibilities about them. Championed by fellow Brummies Peace and Swim Deep, 2014 is going to be a huge year for these guys too.
"Best new band in the UK" – NME "They put the ace into Peace"
—————
Tickets are £8 advance, on sale 9am Wednesday 5th February on Seetickets:
http://www.seetickets.com/event/wolf-alice/bedford-esquires/764824
On sale from Esquires and Luscious Juice Bar from Friday 7th February
—————
This show is ages 14+ – Under 16s to be accompanied by an adult
Doors open 8pm