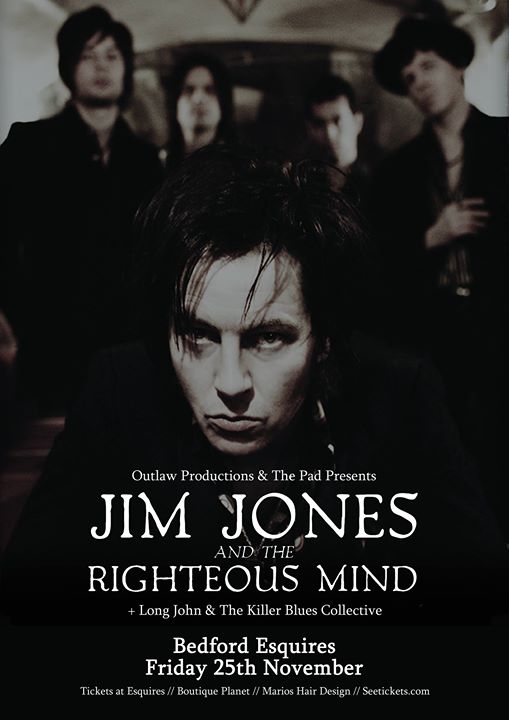 Outlaw Productions &
THE PAD PRESENTS
http://www.thepadpresents.com
Singer and guitarist Jim Jones' distinctive musical history has spanned several incarnations, including The Jim Jones Revue, Black Moses and Thee Hypnotics. Now, with his new band Jim Jones & The Righteous Mind, Jones and crew are sailing further into dark musical waters in search of rare and exotic beasts.
"I'm going where the country is dark,
And the lounge is heavy, I'm going where the weather suits my clothes." Jim Jones
Jim Jones & The Righteous Mind are:
Jim Jones: vocals, guitar
Gavin Jay: bass
Phil Martini: drums
David Page: pedal steel, theremin
Joe Glossop: keys
Taking the band name from a book of social psychology, Jim Jones & The Righteous Mind, the latest manifestation of Jones' ever-evolving sonic vision, were in the recording studio conjuring a new collection of songs a mere five days after The Jim Jones Revue had played the last encore of their final, sold out show at London's Forum at the end of 2014.
Take a first glimpse into the world of Jim Jones & The Righteous Mind, courtesy of this short film by Zoe Lloyd and Mark Charade:
http://www.righteousmind.co.uk/vision
——–
Tickets are on sale now from Seetickets.com:
http://www.seetickets.com/event/jim-jones-the-righteous-mind/bedford-esquires/991752
On sale locally very soon