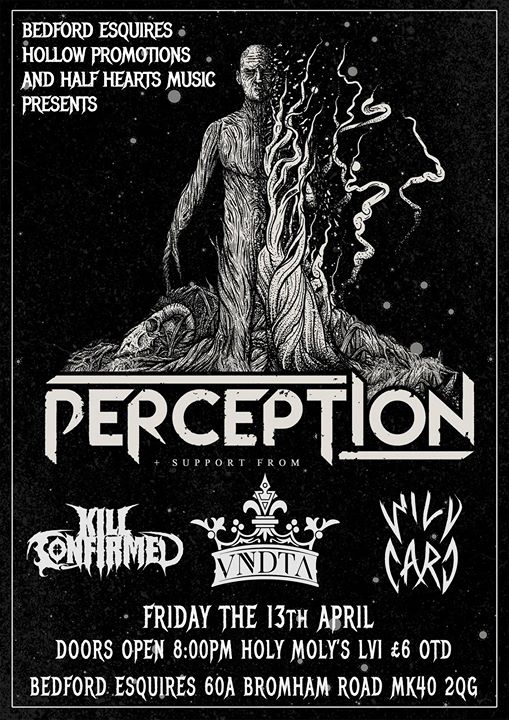 METAL NIGHT at Esquires, Holy Moly's Level 1 £6 OTD
PERCEPTION – Having spent 2017 supporting the likes of The Arusha Accord and Loathe, Tech-Inspired Metalcore act, PERCEPTION, are due to release their new EP Monolith (Produced by Dan Kerr of Avenue Studios – Shields/Our Hollow, Our Home) in the early months of 2018. Ever aiming higher, PERCEPTION are setting new expectations with their latest record. The band have used this record as a platform for individual expression, reflecting upon the recent past which is scored with darkness and personal resolve.
With a new sense of purpose and maturity, 2018 will be PERCEPTION's year as they set out to turn heads and move bodies with an aggressive and emotional release and a live show to match.
VNDTA – female fronted Djent outfit made themselves a force to be reckoned with after their highly acclaimed EP from Last year 'Pale Glow' VNDTA return to Esquires once again to prove themselves as a serious force in underground Metal
Kill Confirmed – After a parting ways over a go to venture into new things and after deciding they miss the music, the Heatfordshire Heavy weights return to Bedford with band new songs under their belt to show what the scene missed so much!
Wild Card – Female fronted Hard rock outfit from Guildford. After being featured on BBC introducing only after 5 months of being an official band, Wild Card prove that they mean business with they debut single 'Cynide Smile' being heavily praised they now venture to Bedford show what all the fuss is about!