NIRVANA UK / PEARL SCAM
October 8 @ 7:00 pm

-

11:00 pm

£15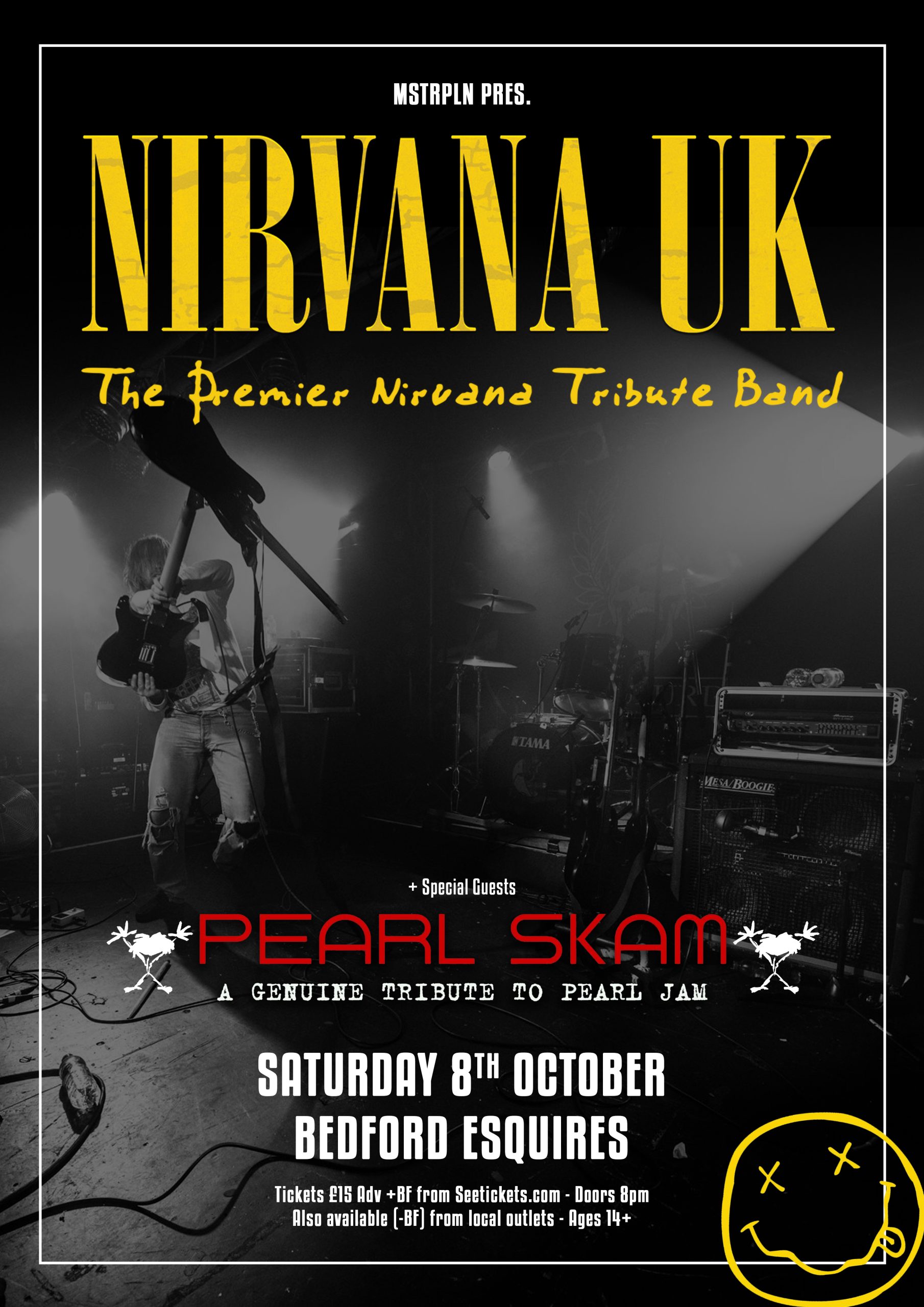 NIRVANA UK + PEARL SCAM – Live at Bedford Esquires, Saturday 8th October – Doors 7pm – 11pm
Nirvana UK are returning to Bedford Esquires on Saturday 8th October this time as part of the ultimate double bill featuring a tribute to Pearl Jam 'Pearl Scam' creating the ultimate 90s grunge package on one stage on one night.
NIRVANA UK
Tearing up venues up and down the UK and around Europe the band are formed of 3 die hard Nirvana fans who love nothing more than recreating Nirvana's live music and look for other fans! The band strive to be as close to the real deal as possible. Including the same instruments, effect boxes and pre amp that Kurt Cobain used to ensure they re-create the distinctive Nirvana sound.
The band is made up of;
Jez – Kurt Cobain
Dan – Krist Novoselic
Jon – Dave Grohl
Nirvana UK's set includes the whole spectrum of Nirvana's live and studio catalogue, from rarities on From the Muddy Banks of the Wishkah, to the massive sounding commercial success of Nevermind, through debut Bleach, Incesticide, In Utero and everything in between – Not to mention the standard Nirvana style anarchy and abuse of gear at the conclusion of each show.
So if like us, you love Nirvana, or just want to re live your youth, come as you are and check them out…. you won't be disappointed.
PEARL SCAM
They play Pearl Jams songs and play them damn well! Close your eyes and you will think your there , Seattle 1991 , the birth of a sound . As the tones of Alive and Evenflow fill the room , you will remember how you felt when you first heard Ten ! As you hear classic songs like Jeremy ,Betterman , Elderly Woman and Given to fly you will remember what Pearl Jam is all about ….. The music.
Pearl Scam is the UKs finest Pearl Jam experience . The bands musicians have come together with one common goal recreating the high energy live shows , with 26 years of music to draw from add to that cover songs you will certainly have a night you wont forget .
Pearl Scam is dedicated to giving their all to ever show , in every town , in every city .
The band is comprised of some of the finest experienced reliable musicians in the country.
Both bands will be playing full sets on the evening, no compromises ! Doors will open at the earlier time of 7pm with Pearl Scam taking to the stage at 7.30pm sharp.
An early arrival is essential!
With NIRVANA UK regularly selling out Bedford Esquires in their own right we are expecting tickets this double ultimate 90's Grunge package to fly out – Tickets are on sale now from 
Seetickets.com
 and can be bought in person from Esquires Bar & Slide Record Store.