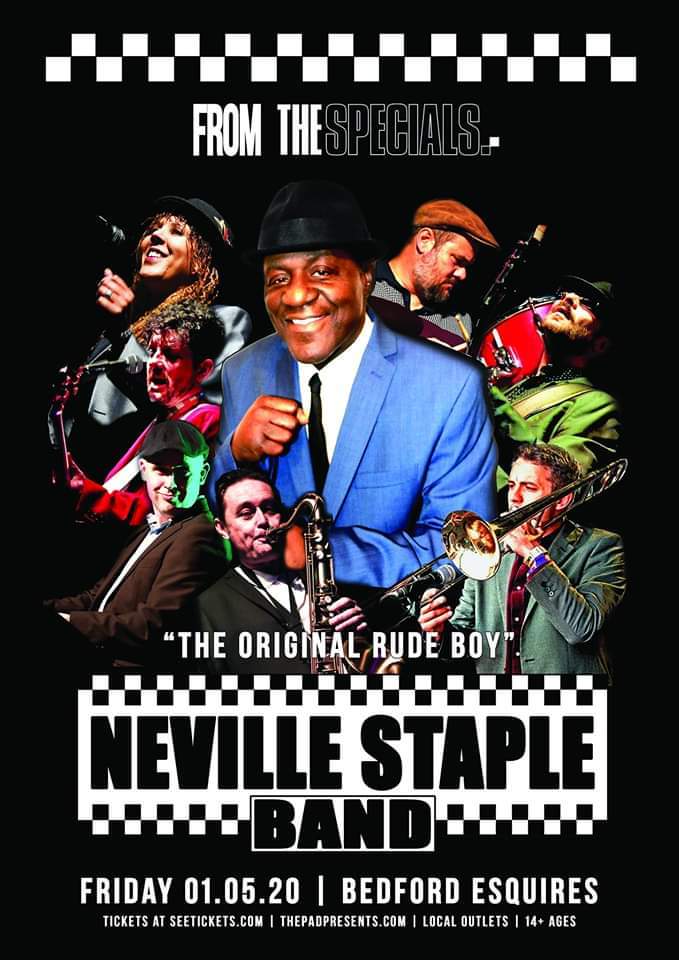 FROM THE SPECIALS: NEVILLE STAPLE BAND
+ guests:
LIVE AT BEDFORD ESQUIRES, 8pm FRIDAY 22nd October 2021
*NEW DATE* Tickets remain valid from the May and September 2020 & April 2021 shows – seetickets will be in touch with all ticket holders / if you are unable to attend please get a refund from the point of purchase*
No stranger to Bedford, the Neville Staple Band returns to town on Friday 1st May to kick off the summer with a proper 2 Tone Ska Party. Having packed out Bedford Corn Exchange 3 times in the past with over 600 in attendance this time we have decided to keep it a bit more intimate as Neville returns to Bedford Esquires.
For anyone who doesn't know, Neville Staple is one of the great figureheads of the second wave of British ska that broke across the nation's music scene in the late 70s best known for his work as the singer / toaster in Ska and Two Tone legends The Specials.
Alongside Terry Hall and Jerry Dammers, Neville Staple was at the centre of perhaps UK ska's most-loved bands The Specials. The band had seven consecutive top 10 hits between 1979 and 1981.
Neville's solo tour features a selection of The Special's back catalogue including "Gangsters", "A Message to you Rudy", "Monkey Man", "Ghost Town" and "Nightclub" along with tracks from his second chart topping band The Fun Boy Three as well as reworking some original Jamaican ska classics and showcasing some brand new original solo material.
Following on from the massive Specials reunion back in 2009 to 2012 Neville has since left the fold and continues to fly the flag with his 'Ska Crazy' shows.
Expect all the hits and more from one of ska's most loved artists – Get ready to skank 'cos the king of Two Tone is ready to party!
Tickets priced £20 on sale now online from Seetickets from Friday 7th February and can be picked up in person from Esquires Bar, Slide Record Store and Mario's Hair Design
www.seetickets.com/event/from-the-specials-neville-staple-band/bedford-esquires/1492942