Covenant – Fieldworks UK Tour – NEW DATE Bedford 2022
January 13, 2022 @ 8:00 pm

-

11:00 pm

£20.00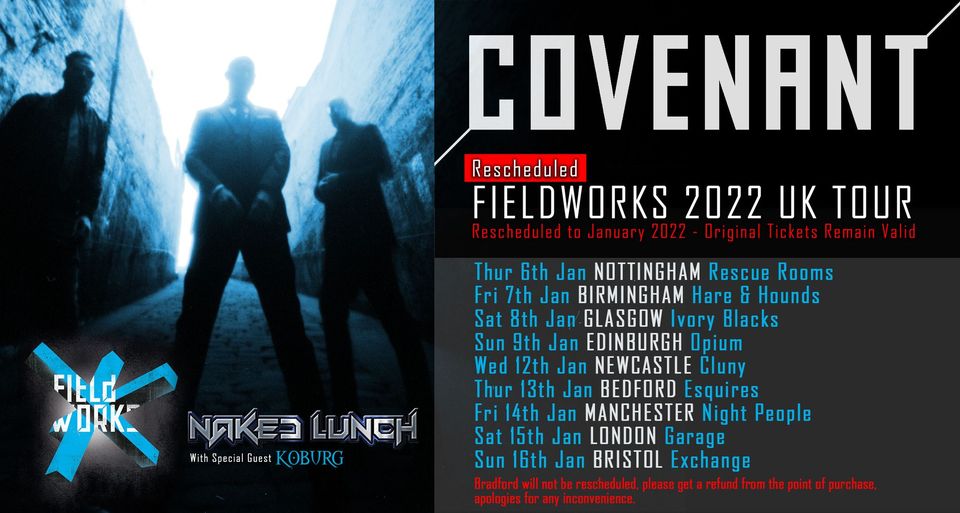 COVENANT- FIELDWORKS:
Covenant limited CD "Fieldworks: Exkursion EP" to be a tour exclusive. Before the new Fieldworks tour kicks off with 8 dates in the UK, Covenant announce the release of a 5 track EP called "Fieldworks: Exkursion EP". It's the first release of an upcoming cycle of records attributed to the theme "Fieldworks". Containing one song written by each member of the band it spans the tension, dance and artistic leap of faith that Covenant has come to stand for. It also includes a strong collaboration with French electro-industrial newcomer Grabyourface.
Tracklist EP:
1 Pantheon
2 All That Is Solid Melts Into Air
3 False Gods ft Grabyourface
4 Popol Vuh
5 Das Nibelungenlied (Erstes Abenteuer)
The songs are based on field recordings of great and small things from tours across six continents, mixed with the everyday noise of living. It's an angry reflection of the interesting times we live in and Covenant use field recordings as a medium and vessel to challenge our perception of media, manipulation and agendas kept hidden from us. The "Fieldworks: Exkursion EP" also revolves around spirituality, taking cues from old texts such as the Mayan creation myth Popol Vuh, ancient temples like the Pantheon in Rome and lingers on the beauty that is life itself. What do we believe in? What is going on that we cannot hear but feel everyday? Rediscover the world through its sounds (and silence) and rise to the challenge of our times.