COACH PARTY + Korts
May 6 @ 7:00 pm

-

11:00 pm

£8.50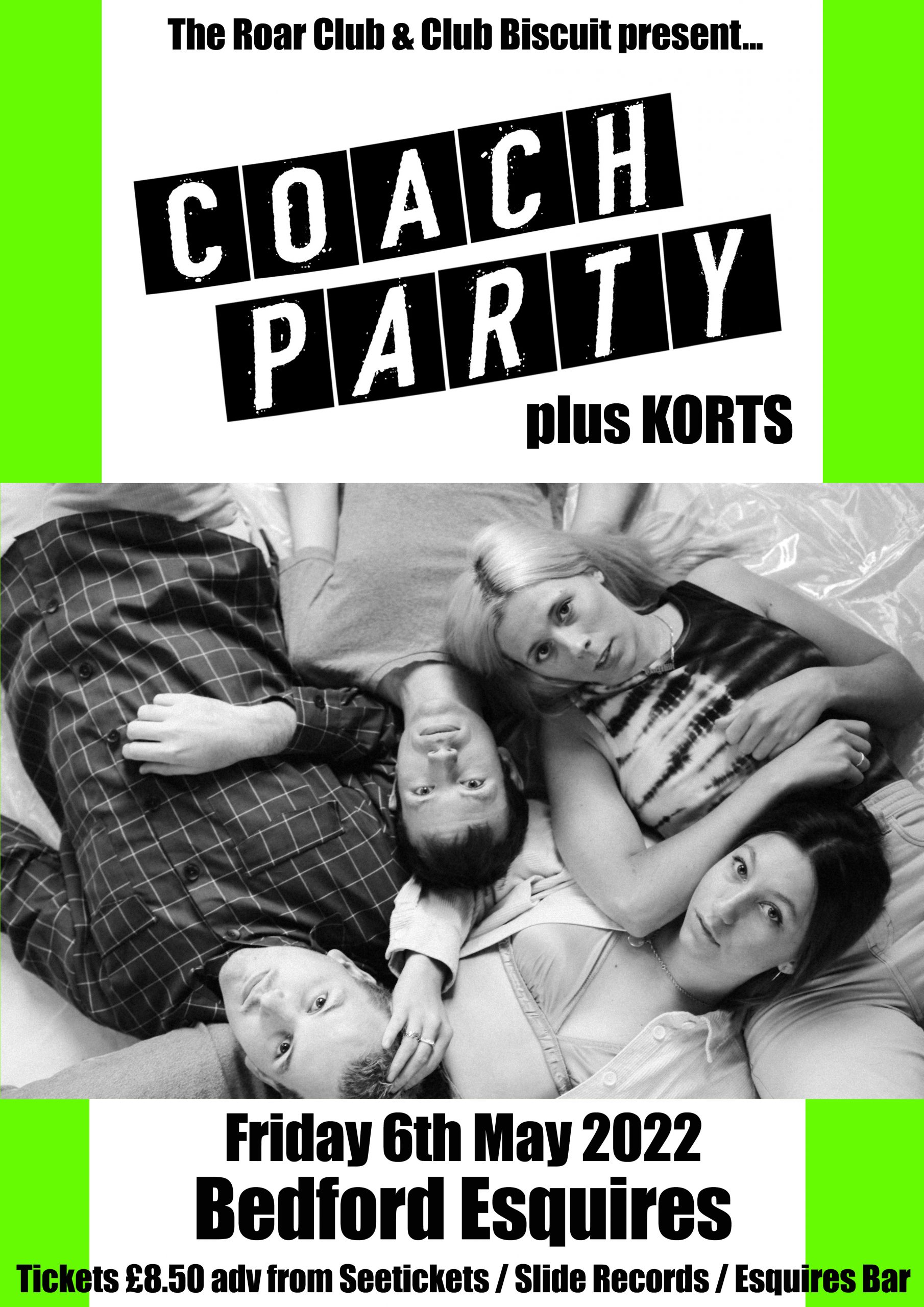 Rescheduled date. Seetickets may have refunded your original tickets so please check!
Emerging Isle of Wight four-piece Coach Party are the latest addition to the Chess Club family, Coach Party have joined the ranks of a label famed for breaking new talent – where recent signings include Alfie Templeman and Phoebe Green, and past successes include Jungle and Wolf Alice.
The band's fiery first track 'Oh, Lola' was accompanied with 16mm film visuals courtesy of Daniel Broadley. Speaking about the track and its inspiration – solidarity with friends in moments of turmoil – Coach Party's lead vocalist and bassist Jess Eastwood said, "No matter how boring, frustrating and dumb life is, 'Oh, Lola' is that one friend we all have that when you're together, you overcome all of that negativity and just have fun. That's what 'Oh, Lola' is about." The band all grew up on the Isle of Wight ("it's only a matter of time until you meet pretty much everyone else on the Island," says Jess) and eventually crossed paths as avid music fans – working in venues, playing together and meeting at the same gigs. Coach Party eventually formed after Jess and guitarist Steph Norris decided to start playing music together; quickly realising that there was something special about the pair's songwriting and bond, guitarist Joe Perry and drummer Guy Page joined the ranks. Musically, Coach Party are inspired by a broad palate of artists, but always find themselves drawn back to Nirvana, Sonic Youth and The Strokes, and contemporary artists like Wolf Alice, The Big Moon and Tame Impala. Ultimately though, Coach Party's primary drive to write and perform music comes from "the often entertaining struggle of real life."
The band still live and work on the Isle of Wight (Jess at a farm park, Guy in a music studio and Steph & Joe in cafes), and describe life on the island as going "through pretty distinct phases of being a great, and a really frustrating place to live." The opening of new venue Strings two years ago has raised the energy of live music in the area and provided the impetus for Coach Party's breakout first offering 'Oh, Lola' today. With more music and a slew of live show announcements due soon, Coach Party's name and influence is set to spread far, far beyond the IOW's shores before too long.