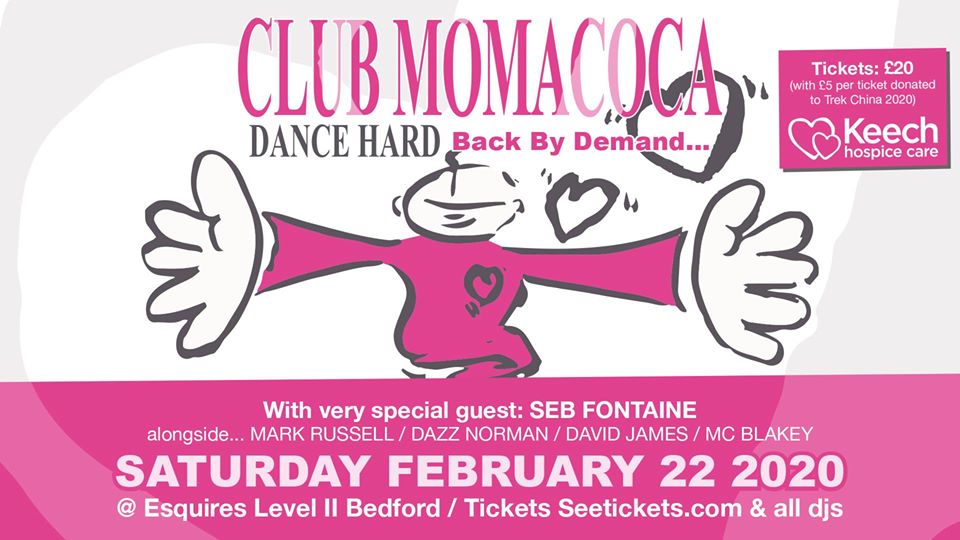 We're back By Demand on Saturday 22nd February for another good old 90's inspired rave up! We are super proud to announce that Seb Fontaine will be our very special guest alongside Momacoca regulars Mark Russell, Dazz Norman, David James & MC Blakey. Amazing DJ & super guy, Seb has taken his music around the world from his Cream residency in the 90's to his Global Underground mix series and while holding down a weekly show on National Radio 1, the guy is UK house royalty and we are honoured to have him come play at our original home Esquires – this ain't no hype, the night will fcukin' rock!
Those of you that came last year when Brandon Block rocked the spot know what to expect …. Pure 90's dance music all night long for those that remember!
By buying a ticket, coming along with a smile on your face and dancing hard you'll be supporting a charity very close to our hearts – Keech Hospice Care, located nearby in Luton.
We ask all like minded souls to spread the word, share the love and come and fantastic night of music & dance. Peace, Thanks & Big Love.
Tickets available online here:
https://www.seetickets.com/tour/club-momacoca-ft-seb-fontaine
For Further information about Keech Trek China 2020:
https://www.justgiving.com/fundraising/julie-russell23
For further information on Keech Hospice:
https://www.keech.org.uk/