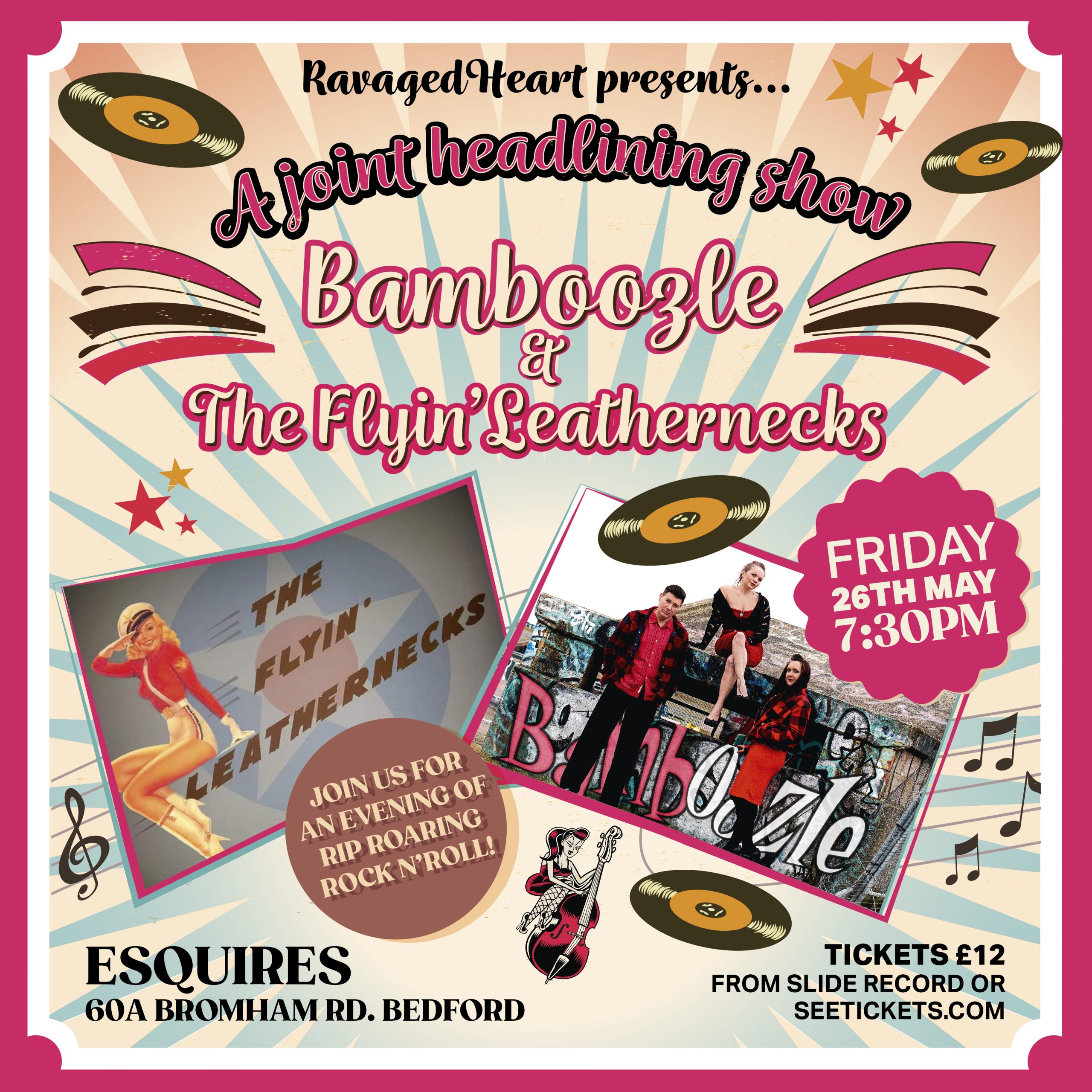 Ravagedheart presents… A night of rock n'roll, Rockabilly and swing.. Double headline show in room 2 at Esquires featuring:
BAMBOOZLE
Dynamic. Different. Unique. Bringing excellent musicianship and a packed, high-energy performance to Esquires Room 2 Kent based trio Bamboozle take you on a journey through their music, through the swinging 20's to the rockin' 50's, interlaced with influences from today's popular music in a way that will mesmerise both retro loving and modern audiences.
Lead by singer/bassist/songwriter ; Serena Sykes, lighting up the stage with her dynamic presence, electric vocal and daring double bass stunts and joined by internationally renowned singer/guitarist/songwriter Jim Knowler (The Keytones, Gotz Alsmann), injecting his exciting and instantly recognisable guitar riffs, finally backed by stylish drummer/vocalist, Jax Titmus, bringing her rhythmic ideas and energetic performances to complete the line up. The band have performed on the main stage at Twinwood festival (Bedfordshire) festival of vintage & more.
"A warm retro sort of rockabilly sound that speaks to your heart and dancing feet, evoking the emotion you don't get from modern pop songs" – City Beats
THE FLYIN' LEATHERNECKS
Bedfordshire based band ; Bob MacDonald, Chris Ashby and Mick Campbell make up The Flyin' Leathernecks. With a repertoire of original material, unique covers and rock 'n' roll standards.
The band have perfomed up and down the country for over 10 years & describe themselves as "One of the world's top rock n' roll bands no one has ever heard of….did I mention I was in whirlwind?" Guaranteed to make your night rock, bring your dancing shoes